A new identity for the Canada Pavilion
January 8, 2020
Telefilm Canada is pleased to inform its clients that the Canada Pavilion will be redesigned for 2020. The new concept will first be rolled out at MIPTV, the Cannes Film Market, MIFA, Sunny Side of the Doc and MIPCOM and then extend to all other international events during 2021.
In keeping with its mission to support and promote Canadian content and talent internationally, Telefilm Canada, through the Canada Pavilion, offers a robust hub for a Canadian presence at festivals and markets.
With a new arrangement and layout concept, combined with the creation of new, standardized branding, Canada Pavilion spaces will now feature a distinctive signature—as unique as Canadian talent.
In order to foster exchanges at premises that offer flexibility and meet user needs, the Canada Pavilion will be divided into three distinct areas:
Business Space – to maximize export sales and coproduction activities
Promotion Space – to offer visibility options
Networking Space – to encourage informal and spontaneous meetings
The call for registration, which will provide information on how to participate in the next MIPTV and reserve space at the Canada Pavilion, will be sent shortly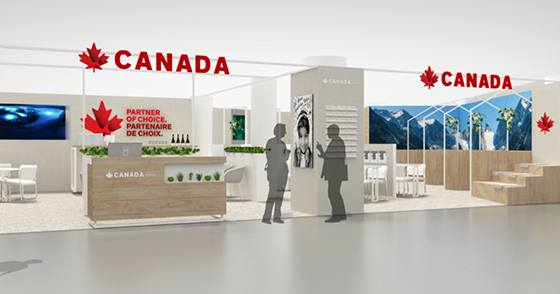 Photo :  Over and above