MADE | NOUS Launches on the Apple TV App to Spotlight Canadian Content in Time for National Canadian Film Day
April 21, 2020
April 21, 2020 – Montréal/Toronto – In celebration of National Canadian Film Day on April 22, Telefilm Canada and the Canada Media Fund are proud to launch the MADE | NOUS collection on the Apple TV app featuring hundreds of Canadian films available to stream, rent or purchase. The collection is now available to all Canadian users. The collection includes such recent hits as Run This Town, Code 8, Antigone, The Body Remembers When the World Broke Open, The 20th Century, And the Birds Rained Down and Menteur.
"What better way for Canadians to come together and celebrate Canadian film in this time of physical distancing," said Christa Dickenson, Executive Director, Telefilm Canada. "We are keeping the spirit of National Canadian Film Day events alive through digital transformation. As an audience, we can participate on our own or organize digital viewing parties with our family and friends across the country. MADE | NOUS on the Apple TV app allows us to take two hours to visit a part of Canada that we may not have had the chance to experience yet, all from the comfort of our own homes."
The MADE | NOUS collection offers heightened visibility of Canadian titles at a time when audiences are turning to digital options more than ever. The storefront replaces Telefilm's successful Rendez-Vous Canada boutique on the Apple TV app, which launched in January 2017 in celebration of Canada's 150. Since, Canadian films have been viewed over 1 million times on the platform. In addition, Rendez-Vous Canada collections were also launched in four international territories: Germany, France, the United Kingdom and the United States, attracting international audiences for Canadian films along the way.
"National Canadian Film Day has for years brought Canadians together to celebrate the incredible achievements of our nation's filmmakers. This year, though we contend with physical distancing measures, should be no different," said Valerie Creighton, President and CEO, CMF. "We're delighted to launch the MADE | NOUS collection on the Apple TV app to highlight this annual celebration of Canadian film. During these unprecedented times, audiences in Canada and around the world can rally around many of our top artists and creators by enjoying their superb content available on Apple TV."
The collection will be available year-round. To access the MADE | NOUS collection on the Apple TV app directly on iPhone, iPad, iPod touch, Mac and Apple TV, please visit https://apple.co/Made-Nous.
The Apple TV app brings together the different ways to discover and watch shows, movies and more in one app, and is available on iPhone, iPad, Apple TV, Mac, iPod touch, select Samsung and LG smart TVs, and Amazon Fire TV and Roku devices, and will be available on Sony and VIZIO smart TVs later this year. The Apple TV app now offers Apple TV channels — direct subscriptions to premium video services so customers can watch both online and offline, ad-free and on demand, all in one app.
National Canadian Film Day takes place on Wednesday, April 22 in a new digital format that will unite Canadians in a celebration of our cinematic culture, moving to an all-online physical distancing edition. Viewers can participate in the conversation and share their picks by using #CanFilmDay and @canfilmday and @made_nous on Twitter.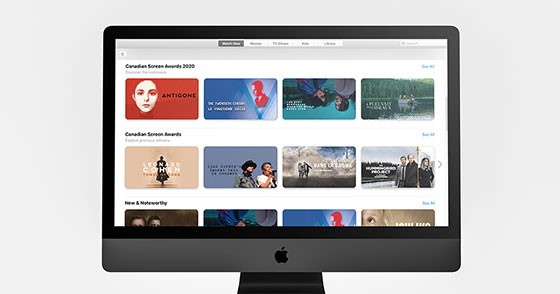 About MADE | NOUS
MADE | NOUS celebrates the works of Canadian creators in film, television, video games and digital entertainment, both here and around the world. Canada is home to award-winning television, movies, and special effects that have captured global audiences and swept box offices worldwide. MADE | NOUS shines a spotlight on the achievements of Canadians who bring exceptional stories to life, and encourages audiences to discover and celebrate their work. MADE | NOUS is the result of a collaborative effort between key entertainment industry players such as the Canada Media Fund (CMF) and Telefilm Canada, as well as an additional thirty—and growing—industry partners. For more information, visit made-nous.ca.
About Telefilm Canada
Telefilm is dedicated to the cultural, commercial and industrial success of Canada's audiovisual industry. Through funding and promotion programs, Telefilm supports dynamic companies and creative talent at home and around the world. Telefilm also makes recommendations regarding the certification of audiovisual coproduction treaties to the Minister of Canadian Heritage, and administers the programs of the Canada Media Fund. Launched in 2012, the Talent Fund accepts private donations which principally support emerging talent. Visit telefilm.ca and follow us on Twitter at twitter.com/telefilm_canada and on Facebook at facebook.com/telefilmcanada.
About the Canada Media Fund
The Canada Media Fund (CMF) fosters, develops, finances and promotes the production of Canadian content and applications for all audiovisual media platforms. The CMF guides Canadian content towards a competitive global environment by fostering industry innovation, rewarding success, enabling a diversity of voice and promoting access to content through public and private sector partnerships. The CMF receives financial contributions from the Government of Canada and Canada's cable, satellite and IPTV distributors. Please visit cmf-fmc.ca.
-30-
Media enquiries:
Brian Mullen
Advisor, Public Relations – English Market
Telefilm Canada
647-475-4910
brian.mullen@telefilm.ca
André Ferreira
Communications Manager
Canada Media Fund
416-554-2768
aferreira@cmf-fmc.ca