Telefilm Canada releases its latest gender parity statistics for feature film production funding
June 19, 2018
Delegates from 37 European countries to attend announcement event as part of Eurimages in Montréal meeting
Montréal, June 18, 2018 – In conjunction with the 151st Eurimages' Board of Management meeting, the Council of Europe's cultural support fund, taking place in Montréal from June 18 to 22, Telefilm Canada is releasing the latest statistics on gender parity in feature film production funding, following the first year of measures introduced in collaboration with the industry.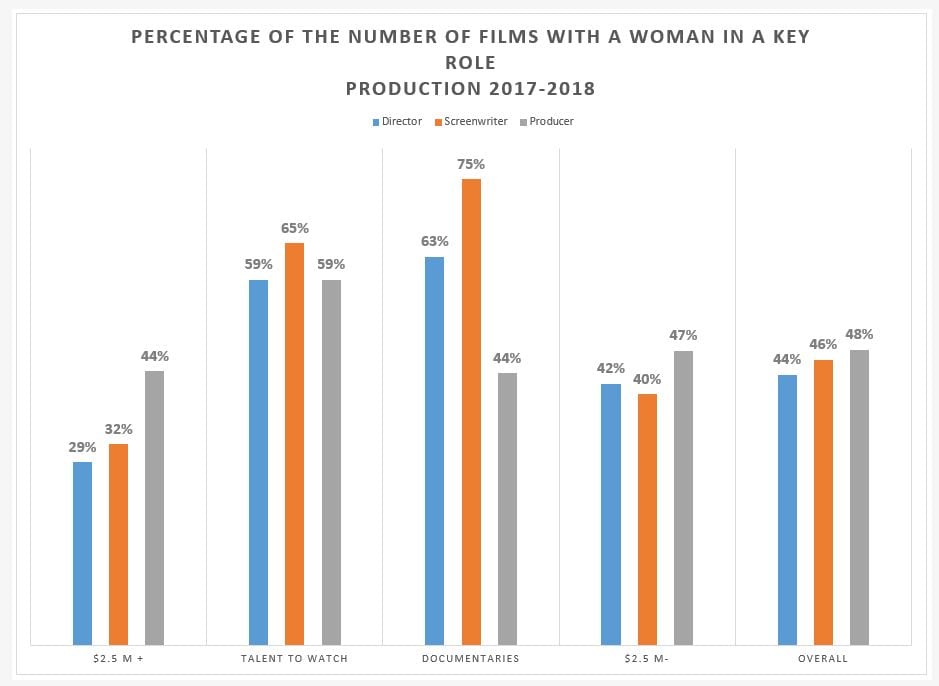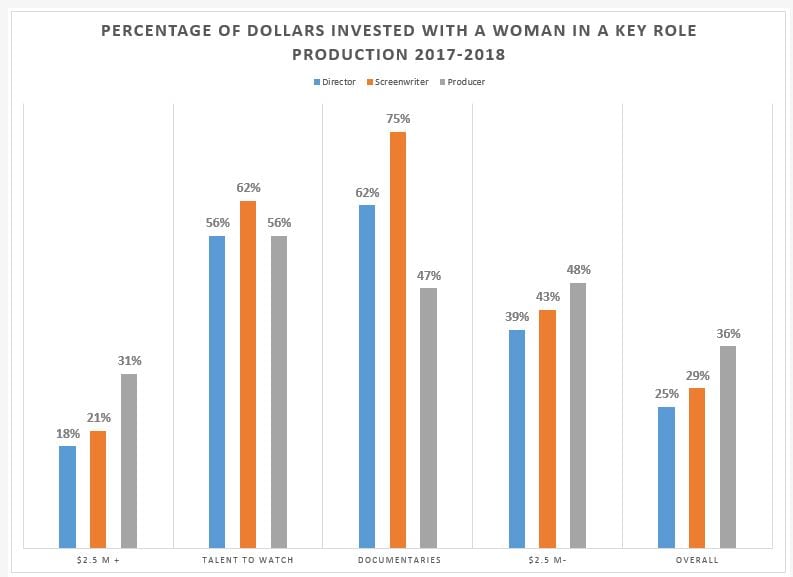 "These results are encouraging and positive change is happening, however, the greatest challenge lies with bigger-budget films, where there is a significant gap" said Jean-Claude Mahé, Acting Executive Director, Telefilm Canada. "We need the industry's collaboration to increase the number of projects led by women in this budget realm.
"That's why, last year we allocated additional funds for women-driven projects in development, increased our promotional efforts and we are now reviewing new incentives aimed at ensuring that more women-led projects budgeted at over $2.5 million enter the pipeline this year. Having the members of Eurimages gathered in Montréal presents an ideal opportunity to get this message out, given that we have similar goals and that coproduction is an important factor in the big-budget film category."
Industry members working with Telefilm Canada:
Alliance of Canadian Cinema, Television and Radio Artists (ACTRA) (also representing CUES – Canadian Unions for Equality on Screen)
Association québécoise de la production médiatique (AQPM)
Association des réalisateurs et réalisatrices du Québec (ARRQ)
Canadian Media Producers Association (CMPA)
Directors Guild of Canada (DGC)
Réalisatrices Équitables
Société des auteurs de radio, télévision et cinéma (SARTEC)
Union des artistes (UDA)
Writers Guild of Canada (WGC)
Women in View
Women in Film + Television Vancouver
About Eurimages
In 2017, Canada became the 38th member country of Eurimages – European Cinema Support Fund and the first non-European member. This program, through the Council of Europe, supports feature-length coproductions between member countries and facilitates the export of Canadian productions. For further information on Eurimages in Montréal, click here.
About Telefilm Canada
Telefilm is dedicated to the cultural, commercial and industrial success of Canada's audiovisual industry. Through funding and promotion programs, Telefilm supports dynamic companies and creative talent at home and around the world. Telefilm also makes recommendations regarding the certification of audiovisual treaty coproductions to the Minister of Canadian Heritage, and administers the programs of the Canada Media Fund. Launched in 2013, the Talent Fund accepts private donations to principally support emerging talent. Visit telefilm.ca and follow us on Twitter at twitter.com/telefilm_canada and on Facebook at facebook.com/telefilmcanada.
Media enquiries:
Joyce Richards
Advisor, Public Relations – English Market
Telefilm Canada
416-973-1819, ext. 2521
joyce.richards@telefilm.ca
Andréane Leblanc
Advisor, Public Relations – French Market
Telefilm Canada
514-283-0838, ext. 2065, or 1-800-567-0890
andreane.leblanc@telefilm.ca