Twenty-Four Film Distribution Companies Come Together to Spotlight Canadian Films in Celebration of National Canadian Film Day
April 20, 2020
Montréal/Toronto, April 20, 2020 – Twenty-four Canadian film distribution companies across the country have joined forces to spotlight Canadian films for audiences to enjoy from the comfort of their own home and participate in National Canadian Film Day on April 22, 2020.
Telefilm Canada is proud to provide support to this first-ever collaboration with financing from its National Promotional Funding, encouraging Canadians everywhere during these challenging times to show their pride and watch a Canadian film. The initiative is a combination of efforts of the Canadian Association of Film Distributors and Exporters (CAFDE) and Regroupement des distributeurs independants de films du Québec (RDIFQ), who acted as representative of the Québécois distributors in the organization process.
A-Z Films, Axia Films, Elevation Pictures, Entract Films, eOne, EyeSteelFilm, Filmoption International, Les Films du 3 Mars, Fragments Distribution, FunFilm Distribution, H264, K-Films Amérique, La Distributrice de films, LevelFILM, Les films de ma vie/les films d'aujourd'hui, Les Films Opale, Les Films Séville, Maison 4:3, MK2 | Mile End, Métropole Films Distribution, Mongrel Media, Pacific Northwest Pictures, Spira, and TVA Films have each curated a list of past and present titles to give audiences a chance to discover or rediscover Canadian films.
The following 40+ titles will be featured across Apple TV, Telus, Cineplex Store, Rogers, Bell, illico, Eléphant – mémoire d'une cinéma québécois, Google Play, YouTube, and Vimeo on demand storefronts beginning April 22.
Axia Films
APAPACHO, UNE CARESSE POUR L'ÂME, directed by Marquise Lepage, starring Laurence Leboeuf, Fanny Mallette, and Sofia Espinosa
Elevation Pictures
HYENA ROAD, directed by Paul Gross, starring Rossif Sutherland and Allan Hawco
INDIAN HORSE, directed by Stephen Campanelli, starring Forrest Goodluck and Sladen Peltier
ROOM, directed by Lenny Abrahamson, starring Academy Award-winning Brie Larson and Jacob Tremblay
RUN THIS TOWN, directed by Ricky Tollman, starring Mena Massoud, Nina Dobrev and Ben Platt
THE SONG OF NAMES, directed by François Girard, starring Tim Roth and Clive Owen
Entract Films
LES BARBARES DE LA MALBAIE, directed by Vincent Biron, starring Justin Leyrolles-Bouchard, Philippe-Audrey Larrue-St-Jacques, and Erin Marguerite Carter
eOne
BIRTHMARKED, directed by Emanuel Hoss-Desmarais, starring Matthew Goode, Toni Collette and Suzanne Clément
THE KINDNESS OF STRANGERS, directed by Lone Scherfig, starring Zoe Kazan, Andrea Riseborough, Tahar Rahim, Jay Baruchel and Bill Nighy
THE YOUNG AND PRODIGIOUS T.S SPIVET, directed by Jean-Pierre Jeunet, starring Helena Bonham Carter, Judy Davis and Callum Keith Rennie
THE 9th LIFE OF LOUIS DRAX, directed by Alexandre Aja, starring Jamie Dornan, Sarah Gadon and Aaron Paul
EyeSteelFilm
L'ARCHE D'ANOTE (ANOTE'S ARK), directed by Mathieu Rytz
Filmoption International
KUESSIPAN, directed by Myriam Verreault, starring Sharon Fontaine-Ishpatao, Yamie Grégoire, and Étienne Galloy
Les Films du 3 Mars
ENSEMBLE, directed by Jean-Nicolas Orhon
Fragments Distribution
RÉSERVOIR, directed by Kim St-Pierre, starring Jean-Simon Leduc, Maxime Dumontier, and Marco Collin
FunFilm Distribution
UNE COLONIE, directed by Geneviève Dulude-De Celles, starring Emilie Bierre, Irlande Côté, Jacob Whiteduck-Lavoie, and Cassandra Gosselin-Pelletier
H264
JUSTE MOI ET TOI, directed by Sandrine Brodeur-Desrosiers, starring Florin Peltea and Dalia Binzari4
K-Films Amérique
MONT FOSTER, directed by Louis Godbout, starring Laurence Leboeuf, Patrick Hivon, Emile Proulx-Cloutier and Lucie Laurier
La Distributrice de films
IMPETUS, directed by Jennifer Alleyn, starring Pascale Bussières, Emmanuel Schwartz, J. Reissner, and Esfir Dyachkov
LevelFILM
BANG BANG BABY, directed by Jeffrey St. Jules, starring Jane Levy, Justin Chatwin, Peter Stormare and Kristin Bruun
DIM THE FLUORESCENTS, directed by Daniel Warth, starring Claire Armstrong and Naomi Skwarna
EDGE OF WINTER, directed by Rob Connolly, starring Tom Holland and Joel Kinnaman 
SUCK IT UP, directed by Jordan Canning, stars Grace Glowicki and Erin Margurite Carter
THE BODY REMEMBERS WHEN THE WORLD BROKE OPEN, directed by Kathleen Hepburn and Elle-Máijá Tailfeathers, starring Elle-Máijá Tailfeathers, Violet Nelson, Charlie Hannah, and Barbara Eve Harris
Les films de ma vie/les films d'aujourd'hui
LA VRAIE NATURE DE BERNADETTE, directed by Gilles Carle, starring Micheline Lanctôt, Donald Pilon, and Reynald Bouchard
Les Films Opale
VIVRE À 100 MILLES À L'HEURE, directed by Louis Bélanger, starring Rémi Goulet, Antoine L'Écuyer, Félix-Antoine Cantin, and Maxime Dumontier
Les Films Séville
MERCI POUR TOUT, directed by Louise Archambault, starring Magalie Lépine-Blondeau, Julie Perreault, and Robin Aubert
Maison 4:3
ANTIGONE, directed by Sophie Deraspe, starring Nahéma Ricci, Nour Belkhiria, and Rawad El-Zein
MK2 | Mile End
AND THE BIRDS RAINED DOWN (IL PLEUVAIT DES OISEAUX), directed by Louise Archambault, starring Andrée Lachapelle, Rémy Girard and Gilbert Sicotte
Métropole Films Distribution
WAR WITCH (REBELLE), directed by Kim Nguyen, starring Rachel Mwanza, Alain Lino Mic Eli Bastien, and Serge Kanyinda
Mongrel Media
WATER, directed by Deepa Mehta, starring Seema Biswas, Lisa Ray, John Abraham and Sarala.
THE GRIZZLIES, directed by Miranda de Pencier, starring Ben Schnetzer, Will Sasso, Paul Nutarariaq, Anna Lambe, Tantoo Cardinal, Emerald MacDonald and Booboo Stewart
MAUDIE, directed by Aisling Walsh, starring Sally Hawkins and Ethan Hawke
BROOKLYN, directed by John Crowley, starring Saoirse Ronan, Domhnall Gleeson and Emory Cohen, with Jim Broadbent and Julie Walters
ANTHROPOCENE, directed by Jennifer Baichwal, Nicholas de Pencier and Edward Burtynsky. Narrated by Alicia Vikander
Pacific Northwest Pictures
CANADIAN STRAIN written and directed by Geordie Sabbagh and starring Jess Salgueiro
DRONE written and directed by Jason Bourque and starring Sean Bean
FALLS AROUND HER written and directed by Darlene Naponse and starring Tantoo Cardinal
LAVENDER directed by Ed Gass-Donnelly and written by Colin Frizzell and Ed Gass-Donnelly and starring Abbie Cornish with music by Sarah Neufel and Colin Stetson
BEN'S AT HOME directed by Mars Horodyski and written by Dan Abramovici and Mars Horodyski
Spira
DES HISTORES INVENTÉES, directed by Jean-Marc E. Roy
TVA Films
WOLFE, directed by Francis Bordeleau, starring Catherine Brunet, Ludivine Reding, and Antoine Pilon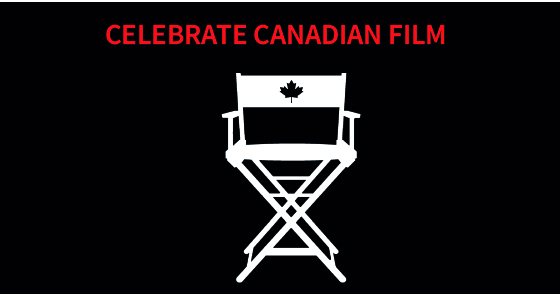 Celebrate Canadian Film, presented by Telefilm Canada in partnership with #CanFilmDay
Please download the Celebrate Canadian Film image and share across your social channels.
You can download materials here. #CanFilmDay
About Telefilm Canada
Telefilm is dedicated to the cultural, commercial and industrial success of Canada's audiovisual industry. Through funding and promotion programs, Telefilm supports dynamic companies and creative talent at home and around the world. Telefilm also makes recommendations regarding the certification of audiovisual coproduction treaties to the Minister of Canadian Heritage, and administers the programs of the Canada Media Fund. Launched in 2012, the Talent Fund accepts private donations which principally support emerging talent. Visit telefilm.ca and follow us on Twitter at twitter.com/telefilm_canada and on Facebook at facebook.com/telefilmcanada.
About the Canadian Association of Film Distributors and Exporters (CAFDE)
The Canadian Association of Film Distributors and Exporters (CAFDE) serves to represent the Canadian film distribution industry and its members on matters of national interest. Membership includes Elevation Pictures, Entertainment One/Les Films Séville, LaRue Entertainment, Kinosmith, Pacific Northwest Pictures, CropGlass and LevelFILM.
About Regroupement des distributeurs independants de films du Québec (RDIFQ)
The Regroupement des Distributeurs Indépendants de Films du Québec (RDIFQ) was founded in 2008, in order to represent and promote the interests of distribution companies principally dedicated to the marketing, promotion and distribution of Quebec and International auteur cinema.
Since its creation, the RDIFQ has made representations to funding institutions (Telefilm Canada and Sodec), broadcasters (Télé-Québec, Radio-Canada, ARTV and Super Ecran) and news media, in order to provide the perspective of film distribution in Quebec. Representations by the RDIFQ enabled it to defend the needs and priorities of its members, as well as to assert their points of view regarding the implementation of certain public policies, regulations and strategic directions in the film industry in Quebec. The RDIFQ has played an essential role in raising awareness among the various decision-making bodies about the issues and perils as it is the key conduit between the producers of auteur cinema and their audiences.
-30-
Media enquiries:
Brian Mullen
Advisor, Public Relations – English Market
Telefilm Canada
647-475-4910
brian.mullen@telefilm.ca