ROJEK is Canada's Choice in the race for Best International Feature Film at the 2024 Oscars®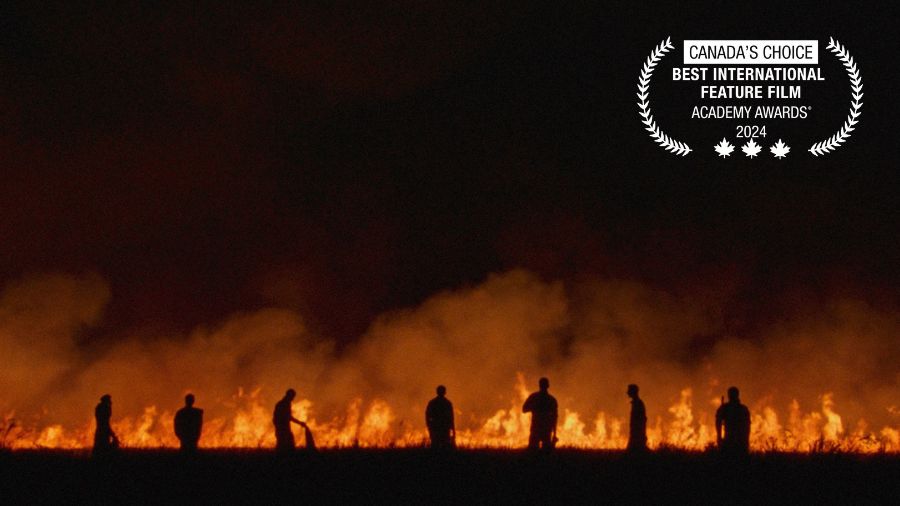 MONTRÉAL – ROJEK is representing Canada in the nomination process for Best International Feature Film at the 96th Academy Awards®, to be held on March 10, 2024. The film is directed and written by Zaynê Akyol, and produced by Audrey-Ann Dupuis-Pierre, Sylvain Corbeil, and Zaynê Akyol of Metafilms. It is being distributed in Canada by Maison 4:3 and in the United States by Icarus Films.  International sales are handled by Andana Films.  
"In what may have been Canada's most competitive year ever, ROJEK was selected by a jury of industry peers as the film to best represent Canada in the Oscar® race," said Julie Roy, Executive Director and CEO, Telefilm Canada. "This announcement marks the beginning of an incredible journey and a one-of-a-kind opportunity for ROJEK to reach audiences around the world and give them just a taste of the quality of filmmaking that Canada has to offer. We wish Zaynê, Metafilms, and the entire creative team all the best of luck as they move forward."
"Being chosen to represent Canada at the Oscars® with ROJEK is a tremendous honour," said Zaynê Akyol, director, writer, and producer. "I would like to express my deep gratitude to the pan-Canadian selection committee for this recognition. Also, a sincere thank you to my dedicated team, who continually pushed the boundaries of creativity and excellence. This moment is the fruit of our shared passion and unwavering commitment to cinema and justice."
The documentary is told in a mix of Arabic, English, French, and Kurdish. It opened in Canadian theatres on January 20, 2023, and is available for rental on all major platforms.  
ROJEK premiered at the 2022 Visions du Réel Film Festival in Nyon, Switzerland. It has screened at festivals around the world, including winning the DGC Special Jury Prize – Canadian Feature Documentary at the 2022 Hot Docs Canadian International Film Festival. 
As the appointed non-voting chair of the committee, Telefilm Canada organizes the annual pan-Canadian Selection Committee for Canada's submission to the Best International Feature Film category at the Academy Awards®.
The vote was determined by a pan-Canadian committee of industry organizations and guilds, as well as filmmakers and industry professionals appointed to represent organizations. Overall, 28 films were submitted for consideration as Canada's Choice this year. The committee met the morning of August 24 to select the film. 
So far, seven countries have submitted their entries for the Best International Feature Film category. Last year, 93 countries submitted a film.  
Key dates:
October 2, 2023 – Deadline for country submissions for the Best International Feature Film category
December 21, 2023 – Academy shortlist of 15 titles selected to move forward.
January 23, 2024 – Academy Award® nominations announced
March 10, 2024 – Academy Awards® ceremony
About ROJEK
ROJEK encounters incarcerated members of the Islamic State from all over the world, as well as their wives detained in prison-camps, who are sharing a common dream: establishing a caliphate. Confronted with the fundamentalist beliefs of the jihadists, the film attempts to trace the beginning, the rise and fall of the Islamic State (ISIS) through their personal stories. These conversations are the thread along which the documentary evolves, as it is intertwined with various sequences depicting current, post-war Syrian Kurdistan.
ROJEK offers an intimate gaze at an unknown reality, testifying of pivotal moments experienced by the actors of this conflict. The film tackles how this ideological war is only the beginning of a new kind of threat.
About Canada in the Best International Feature Film category at the Oscars®  
In the history of the Oscars®, eight Canadian films have been official nominees in the Best International Feature Film (formerly known as the Best Foreign Language Film category): in 2013, Rebelle, by Kim Nguyen; in 2012, Monsieur Lazhar, by Philippe Falardeau and In Darkness, by Agnieszka Holland (a minority coproduction with Poland and Germany); in 2011, Incendies, by Denis Villeneuve; and, in 2007, Water, by Deepa Mehta. The list also includes three films by Denys Arcand: Le Déclin de l'empire américain, in 1987, Jésus de Montréal, in 1990 and, in 2004, Les Invasions barbares, the only Canadian film to have won the Oscar® in this category.
About the selection process for the Best International Feature Film category 
Telefilm Canada coordinates and chairs the pan-Canadian Selection Committee, without voting right. The committee comprises some 16 members representing key government agencies and national film industry associations. It is responsible for choosing the film that will represent Canada at the Oscars®, which accepts only one film per country for the Best International Feature Film category.
Academy rules were modified in 2023, specifying that juries must include a minimum of 50% craftspeople that are currently active in the film industry. Jury members must screen all submissions before participating in a virtual conference to evaluate and vote on which film will best represent Canada at the Oscars®. Jurors are encouraged to consider the quality of the films, as well as their international competitiveness.
Submitted films must have been produced outside the United States in a language of at least 51% other than English and must have been theatrically exhibited in the submitting country for at least seven consecutive days between December 1, 2022, and October 31, 2023. Full details on Academy regulations are available here.
About Telefilm Canada  
As a Partner of Choice, Telefilm Canada is a Crown corporation dedicated to the success of Canada's audiovisual industry, fostering access and excellence by delivering programs that support cultural resonance and audience engagement. With a lens of equity, inclusivity and sustainability, Telefilm bolsters dynamic companies and a range of creative talent at home and around the world. Telefilm also makes recommendations regarding the certification of audiovisual coproduction treaties to the Minister of Canadian Heritage, and administers the programs of the Canada Media Fund. Launched in 2012, the Talent Fund raises private donations which principally support emerging talent. Visit telefilm.ca and follow us on Twitter at twitter.com/Telefilm_Canada and on Facebook at facebook.com/telefilmcanada. 
–30–  
MEDIA CONTACT