Telefilm Canada shares data for inaugural funding through the Development Stream for Racialized Persons
Following the completion of signing all confirmed projects, Telefilm Canada is releasing the program data for the inaugural round of funding for the Development Stream for Racialized Persons.
Through this new stream, over $2.5M was invested in 143 projects from 93 companies. Companies could have the development of up to two projects supported at $18,000 each. Funding for the Racialized Stream in Development was originally budgeted at $500,000 for the fiscal year.
"The high submission of projects to this new stream demonstrates the need for targeted access to funding for Racialized communities," said Christa Dickenson, Executive Director and CEO of Telefilm Canada. "Support in development is a key step in helping projects gain momentum, so an increased level of funding this year will assist many Racialized filmmakers at all career levels further their films."
To support an industry largely on hold due to the COVID-19 pandemic, Telefilm made a one-time redirect of funds to support all eligible projects submitted to the Development Program. The total funding for the Development Program in the 2020-2021 fiscal totalled over $11.65M.
A breakdown of data is available below. Data reported is for the roles of writer and producer. Projects submitted to the Development Program are not required to have a director attached. The option to self-identify is voluntary.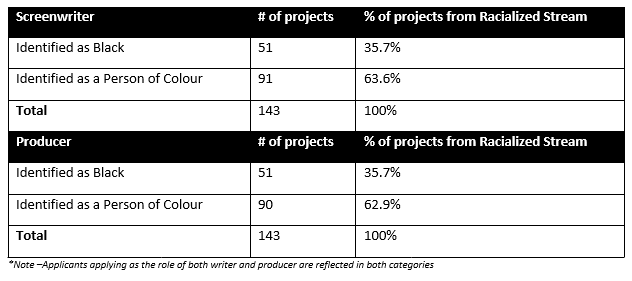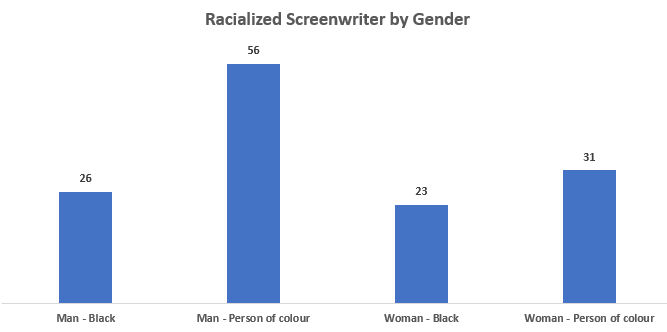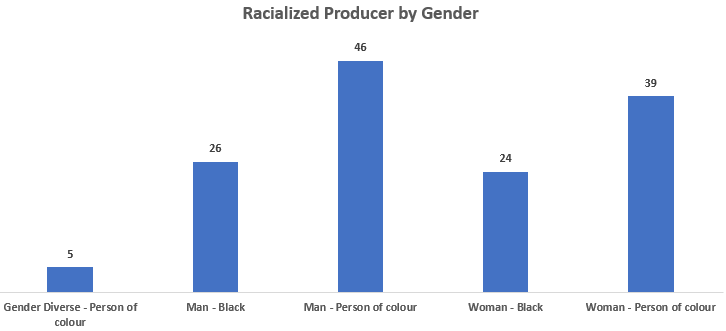 In addition to the above, data was collected for additional categories.  Due to the privacy for a response rate of less than five, these numbers cannot be reported.  Most of these numbers involved intersectional data, as outlined below:
Black – Gender Diverse
Person of Colour – Gender Diverse – in the Screenwriter category
Person of Colour – Woman – in the Screenwriter category
Not Specified on this List – Woman
"Ongoing data collection is essential as it allows Telefilm to see areas that need more attention, and how we can go further to create better support and access for those creators," said Kathleen Beaugé, co-chair of Telefilm's Equity and Representation Action Committee. "Furthering Telefilm's data collection to allow us to get more detailed insights to address the needs of current and future film creators."
These are the latest steps towards more detailed data collection as it develops in consultation with the industry, working toward launching enhanced data collection methodology during the 2021-2022 fiscal year.
Projects submitted to the Development Stream for Racialized Persons were originally intended to be evaluated by an external advisory committee having representation from Racialized Persons, a practice that will be reinstated in future application periods.
Eligible companies could choose to apply through any one of the Development Streams where they qualified.
About Telefilm Canada
Telefilm is dedicated to the cultural, commercial and industrial success of Canada's audiovisual industry. Through funding and promotion programs, Telefilm supports dynamic companies and creative talent at home and around the world. Telefilm also makes recommendations regarding the certification of audiovisual treaty coproductions to the Minister of Canadian Heritage and administers the programs of the Canada Media Fund. Launched in 2012, the Talent Fund raises private donations to principally support emerging talent. Follow us on Twitter at twitter.com/telefilm_canada and on Facebook at facebook.com/telefilmcanada.
-30-
Media contact:
Joyce Richards
Advisor, Public Relations – English Market
Telefilm Canada
647-475-4903
joyce.richards@telefilm.ca